Be part of the world's only professional association dedicated exclusively to incentive travel and its impact on individuals, destinations, businesses and society at large.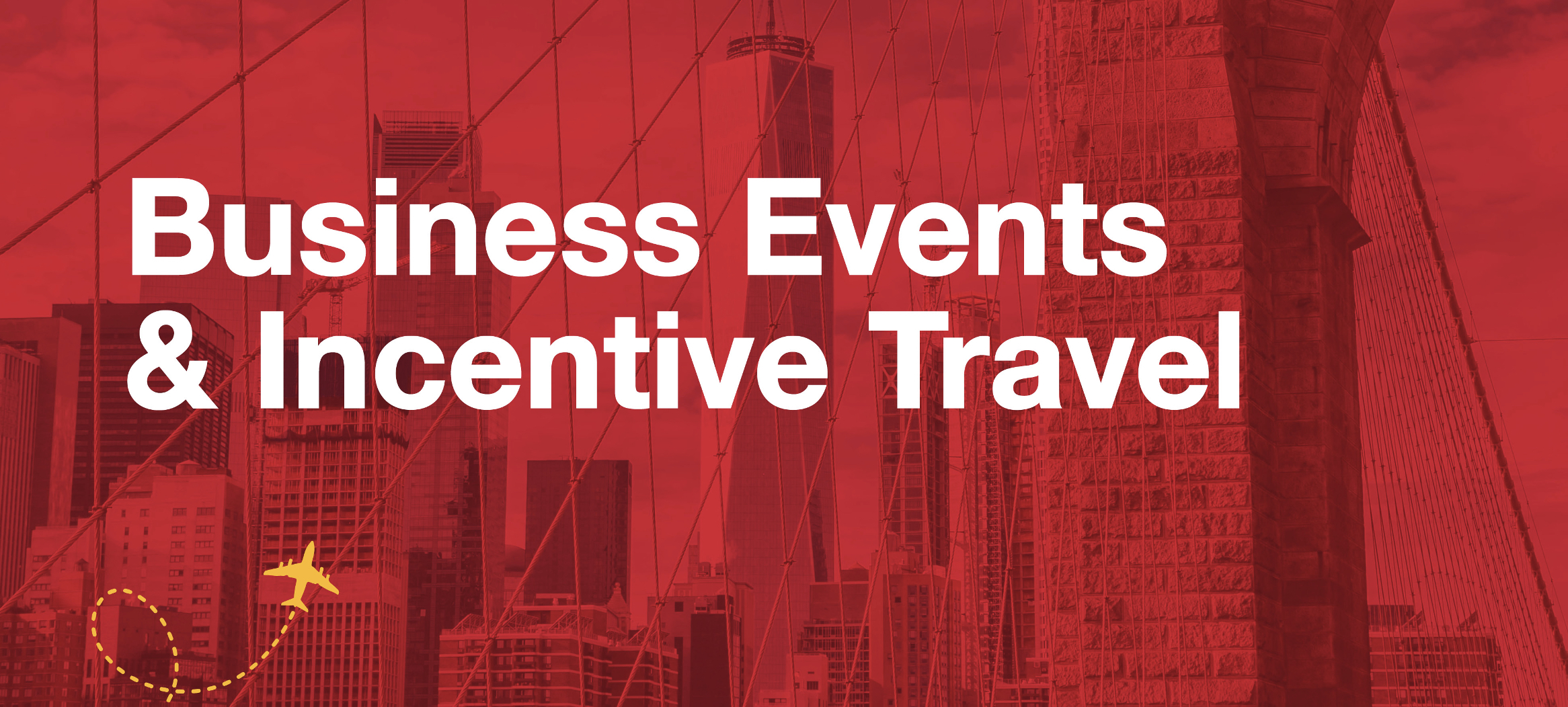 According to recent research conducted by the Events Industry Council (EIC), the business events industry (or MICE, meetings, incentives, conferences, exhibitions / events) is worth USD$1.07 trillion.
Constituting about 7% of this, Incentive Travel is worth around USD$75B. Incentive Travel is also the fastest growing and highest per capita spend of all business events categories and the best performing sector in "Group Travel".
1.07 trillion – all Business Events

$75 billion – Incentive Travel

Fastest growing sector

Highest per person spend

Widest economic impact

Best performing sector in "Group Travel"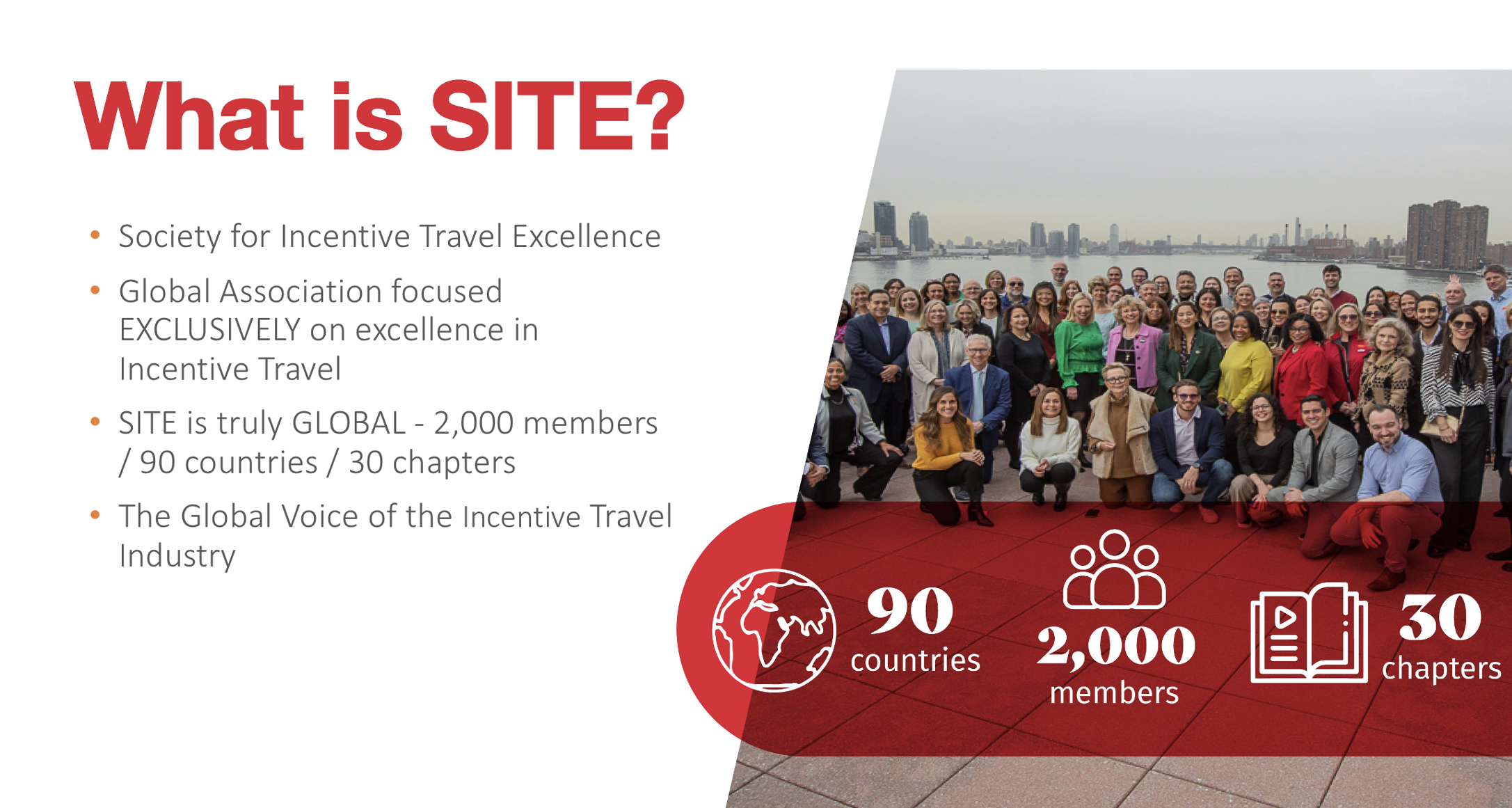 Founded in 1973, we are a professional association of 2,500 members located in 90 countries, working in corporations, agencies, airlines, cruise companies, and across the entire destination supply chain.
We bring value to our members at both global and local chapter level by networking, online resources, education, certification, and advocacy. SITE is deeply committed to the new generation and operates a best-in-class Young Leaders program and dedicated annual conference.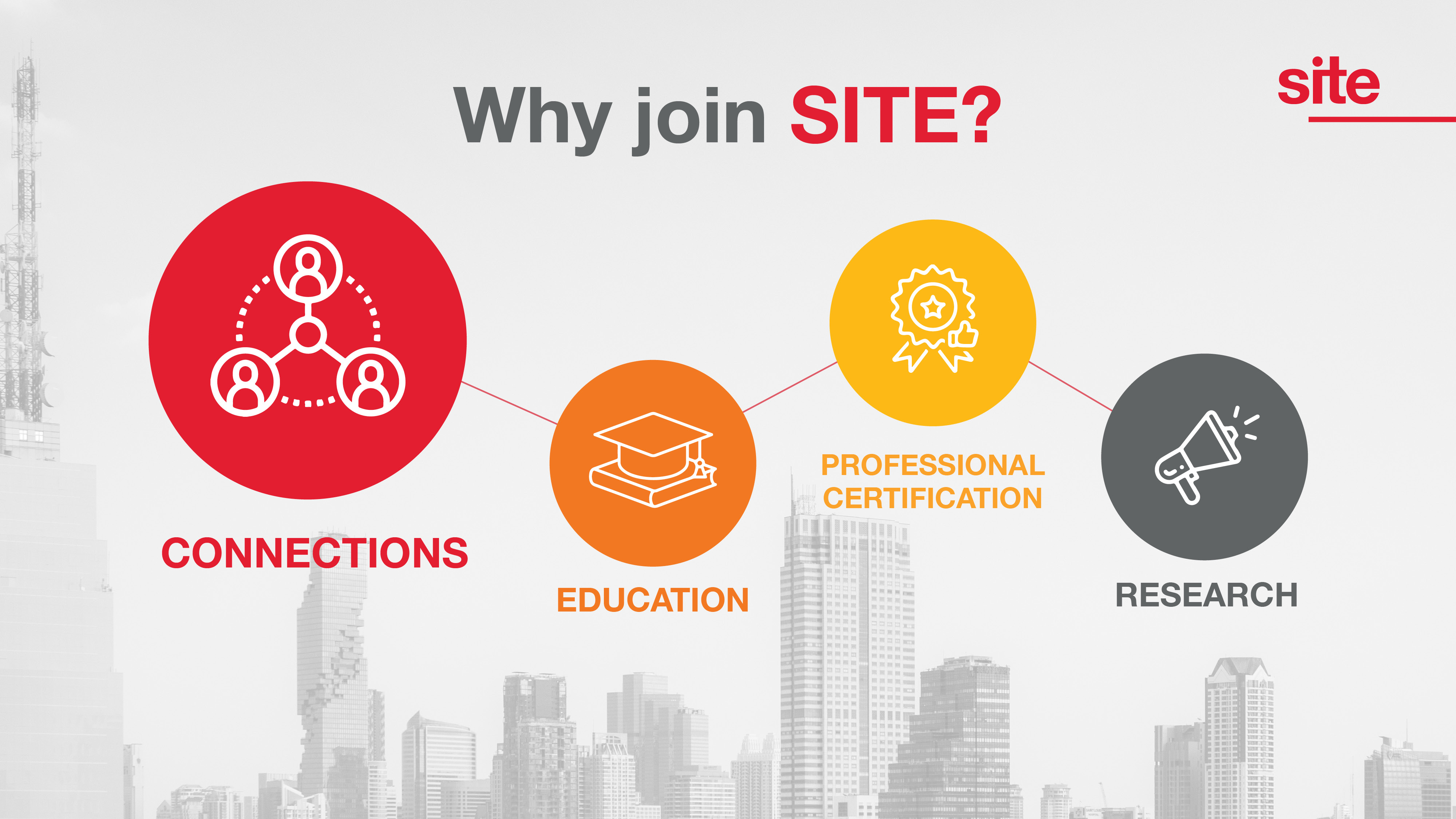 Why Join SITE
SITE is the only global association dedicated exclusively to Incentive Travel. By connecting you to an extensive network of global Incentive Travel practitioners, and providing you with access to relevant education, certification, and research, SITE helps you become a successful global Incentive Travel professional and ambassador for the transformational impact of incentive travel experiences.
Connections
Education
Professional Certification
Research
Membership Types & Fees
Membership Type
Annual Fee

Professional Membership

$445 / €445

Proration schedule for professional membership
April 1
$390 / €390
May 1
$335 / €335
June 1
$280 / €280
July 1
$225 / €255
August 1
$170 / €170
September 1
$115 / €115
Incentive Travel End User
$275 / €275
Developing Professional
$200 / €200

Group Membership

*price per member with a minimum of 5 members needed

$295 / €295*
Student / Faculty
$50 / €50
Retired
$50 / €50
Group Membership
Group Membership is available for a minimum of five (5) full-time employees of the same corporation, company, firm or organisation.
Please note: Commercial marketing groups and / or consortia of DMCs and hotels do not qualify as vehicles for group memberships, unless and until they have been specifically approved as such by SITE
Please note: Members who join SITE under a group membership are full members of SITE, entitled to all the benefits enjoyed by Professional Members.
Member Types (Voting)
(5 or more members) $295 per member / €295 per member
As a group membership leader, please fill in this form with all joining member details and our membership team will be in touch within 48hours to activate your accounts.
How to join SITE
Application Process
Complete an application online. 

Payment may be made in US Dollars or Euros via our payment system. If you wish to pay by wire transfer (in USD or Euros), please email SITE@SITEglobal.com.
SITE Membership runs on the calendar year (January 1st through December 31st).
Membership dues for new members are prorated April through September of each year. Renewal dues are never prorated.
Applicants applying in October of any given year will have valid membership through December of the following calendar year.
SITE membership is individual based.
Application Fee
There is a one-time application fee of $50 or €50.
The SITE International Board of Directors reserves the right to approve members.    
SITE's Year in Review 2022