As the only industry association dedicated exclusively to incentive travel, SITE and SITE Foundation have earned a reputation as the indisputable, indispensable go-to source for quality data, information and content on incentive travel in all its myriad guises.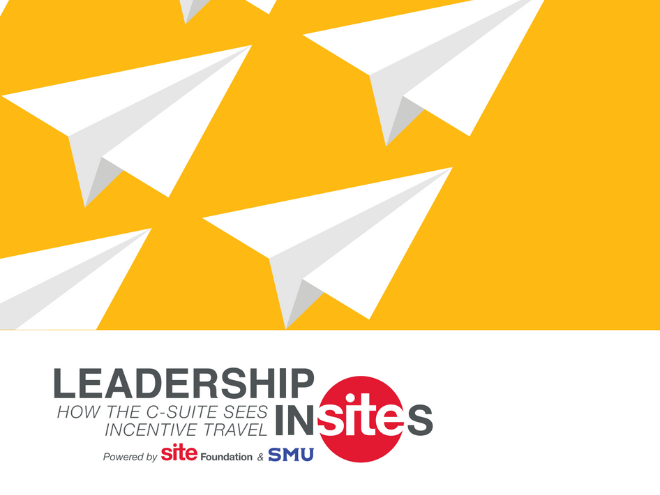 What is Leadership inSITEs?
Incentive travel is a powerful tool with immense potential for leaders from a wide range of industries, regions, and roles, as demonstrated by the standout group of C-suite executives we spoke with for this report.
Leadership inSITEs is the latest project in SITE Foundation's research portfolio. With Leadership inSITEs, we've purposefully departed from the data-driven narrative of this report's predecessors, our three-part Corporate inSITEs series. Instead, we've let the stories from the executives we spoke with stand out. Each leader's remarks give strong examples of how they're advancing the business case for incentive travel within their own organizations and with their corporate peers.
This report shows firsthand what incentive travel does best — shape incredible stories where leaders help their teams discover and learn through unforgettable experiences. As you'll read, this leads to incredibly rewarding personal and professional impacts.
Thank you to every leader who generously shared their time with us, and to all of you for taking time to connect with this important research.

Download Leadership inSITEs
NOW.
We stand at a transformational moment in time. Sustained crises and conflicts have challenged all of us to examine what matters most, what motivates us, what moves us, and what helps us make sense of the world.
NEXT >>>
We are looking to re-connect and to attract new talent; to balance new needs, demands, and priorities. A changed world requires stronger strategies, better tools, and fresh perspectives.
Incentive travel delivers all of this and more: but you don't have to just take our word for it. Profiled here are global C-suite leaders, eager to share how incentive travel has produced transformational impacts for their teams and businesses.
The Leadership inSITEs shared here will help you jumpstart your reward and motivational strategy and use incentive travel to embrace what's "now" and "next" for your team.
More content ...
We've distilled our full Leadership inSITEs report into standalone one-page files. These are easy to scan and review to quickly understand the major takeaways emerging from SITE Foundation's research.
Download whatever findings from this research best help you articulate the business case for incentive travel, or review and share all five of them — crafted to help you communicate what's now, next, and actionable for emerging and current business leaders.