Dive Into Trending Topics: SITE Foundation White Papers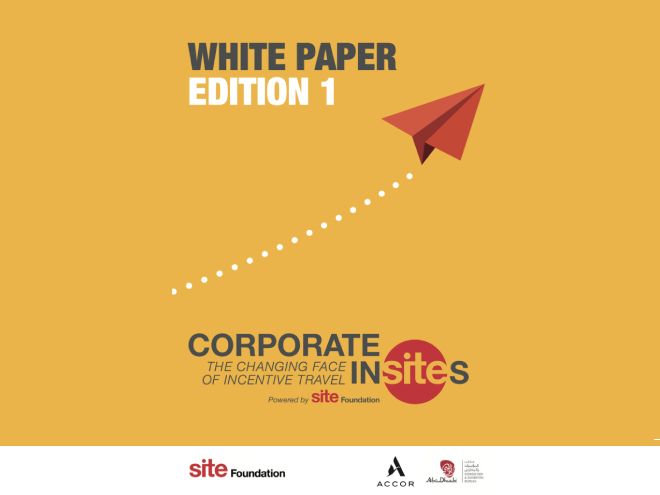 Featured White Paper: Corporate inSITEs - the changing face of incentive travel
Corporate inSITEs is a qualitative survey series undertaken by SITE Foundation in 2021 with responses provided exclusively by professionals in corporations whose remit includes the approval, oversight, design, planning, execution or delivery of incentive travel programs. SITE Foundation has compiled a database of US based professionals working in Finance & Insurance, Automotive, FMCG, ICT, Pharma, Direct Selling, Consulting and 10 other industry verticals. These have been personally approached by SITE Foundation, and have agreed to participate in the survey.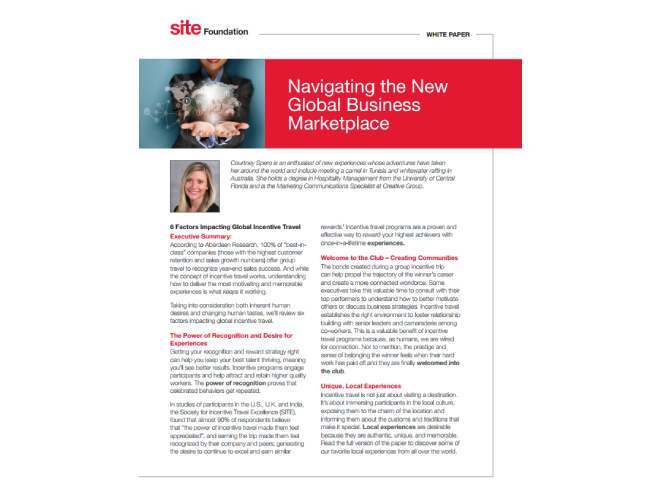 Navigating the New Global Business Marketplace
The world is changing quickly--are your incentive travel programs changing with it? At any given time, there are multiple influences driving the success or failure of incentive travel globally and staying ahead of these trends will allow you to maximize the impact of your program. In this white paper, Courtney Spero, Marketing Communications Specialist at Creative Group, explains the six factors that are impacting incentive travel globally, including inherent human desires and tastes.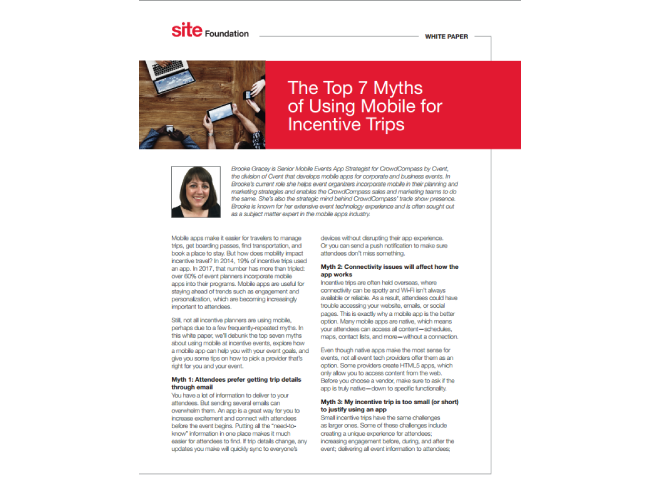 The Top 7 Myths of Using Mobile for Incentive Trips
In this white paper Brooke Gracey, Senior Mobile Events App Strategist for CrowdCompass by Cvent, debunks seven of the most common myths about using mobile at incentive events. Whether you're concerned about connectivity issues, cost, time commitment, or something else, Gracey helps to uncover how event apps can help you reach your event's goals and offers key factors to keep in mind when choosing a provider.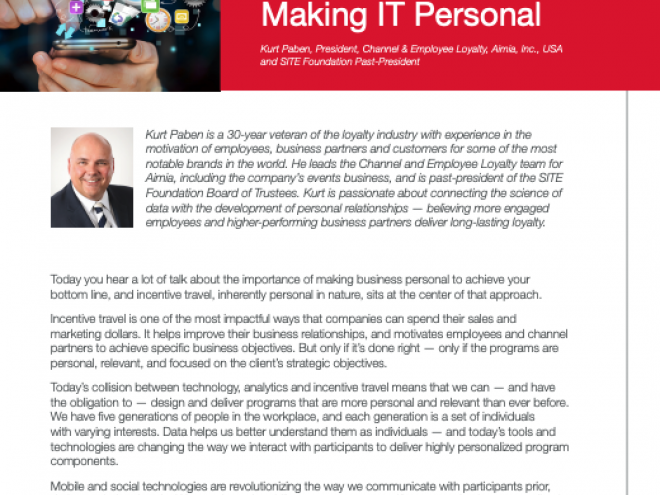 Making IT Personal
Kurt Paben, Past-President of the SITE Foundation Board of Trustees and leader of the Channel and Employee Loyalty team for Aimia, shares how to maximize engagement at events using event technology. Mobile apps, social media, photo-sharing and more offer opportunities to customize the incentive travel experience for clients and to make incentive travel experiences even more personal. Learn what tools are available and how to maximize them to connect with and motivate participants in a personal way.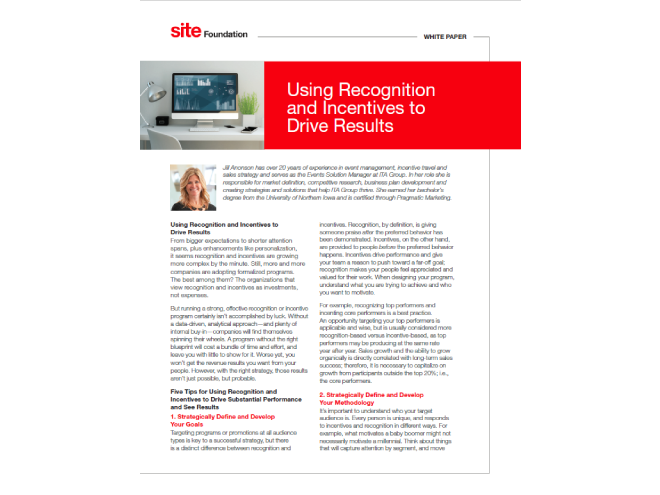 Using Recognition and Incentives to Drive Results
Jill Anonson, Events Solutions Manager at ITA Group, shares five tips and strategies for using incentives to drive performance and produce results in the latest SITE Foundation whitepaper, produced by ITA Group. From strategically defining your goals, to effective communication, to the importance of celebrating successes, learn the best way to run a strong, effective recognition or incentive program that will drive results.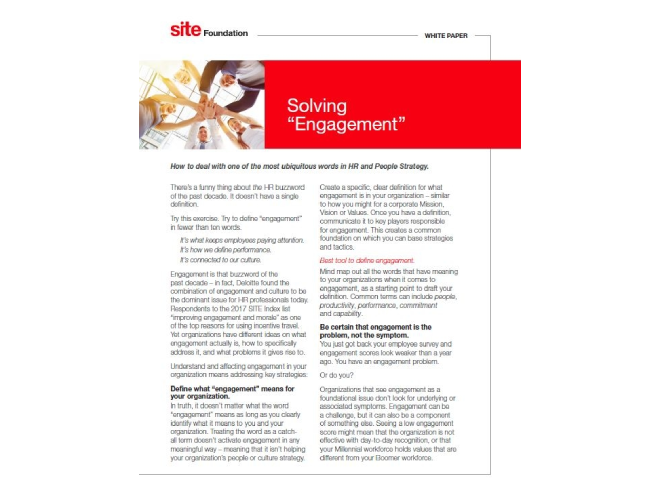 Solving "Engagement"
There's a funny thing about the HR buzzword of the past decade. It doesn't have a single definition.
Engagement is that buzzword of the past decade – in fact, Deloitte found the combination of engagement and culture to be the dominant issue for HR professionals today. Respondents to the 2017 SITE Index list "improving engagement and morale" as one of the top reasons for using incentive travel. Yet organizations have different ideas on what engagement actually is, how to specifically address it, and what problems it gives rise to.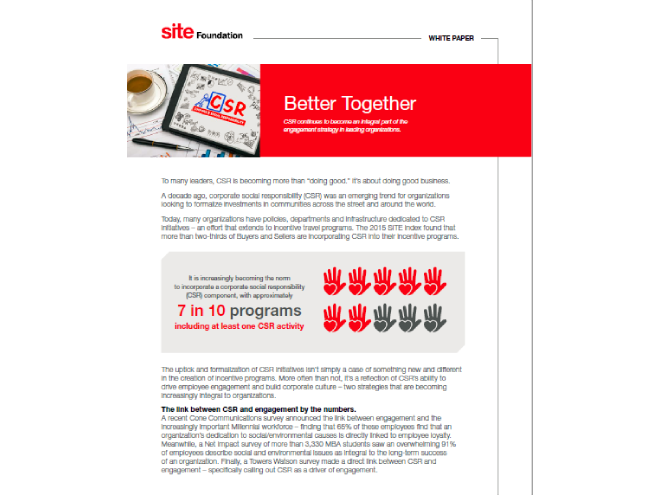 Better Together: Corporate Social Responsibility
Many top organizations have policies, departments and infrastructure dedicated to CSR initiatives. The uptick and formalization of CSR initiatives isn't just a case of something new in the creation of incentive programs. More often than not, it's a reflection of CSR's ability to drive employee engagement and build a strong corporate culture.
Read more about the link between CSR and engagement, trends in CSR, and how you can make the most out of your CSR initiatives.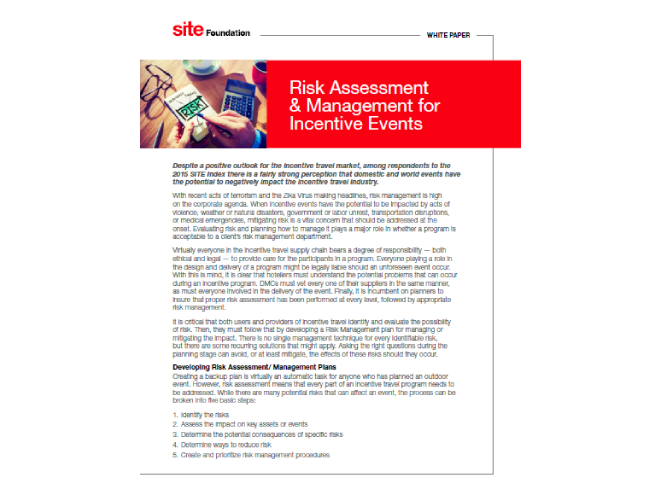 Risk Assessment and Management for Incentive Events
With recent acts of terrorism and the Zika Virus making headlines, risk management is high on the corporate agenda. When incentive events have the potential to be impacted by acts of violence, weather or natural disasters, government or labor unrest, transportation disruptions, or medical emergencies, mitigating risk is a vital concern that should be addressed at the onset. 
Other Resources:
Sample Safety & Security Policy
Expect the Unexpected: When a Crisis Happens, are You Prepared?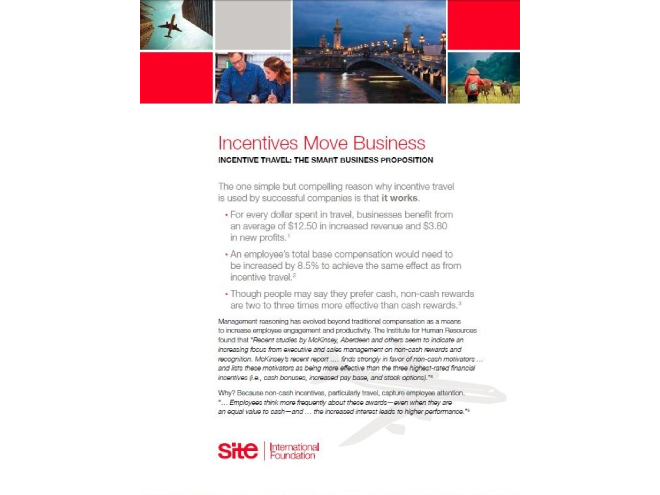 Incentive Travel: The Smart Business Proposition
Understand how this applies to Making the Business Case for Incentive Travel. Read more here.
Incentive travel and motivational events, when properly designed, can help companies achieve many corporate business objectives and provide a measurable return on investment. Incentive travel programs have been proven to increase sales, boost productivity, retain customers, hold on to top talent, promote teamwork, and decrease turnover, among other results.
In this featured white paper, sponsored by Creative Group, IHG (InterContinental Hotels Group), Maritz, Minding Your Business and Viktor Incentives, learn how incentive travel produces ROI for businesses.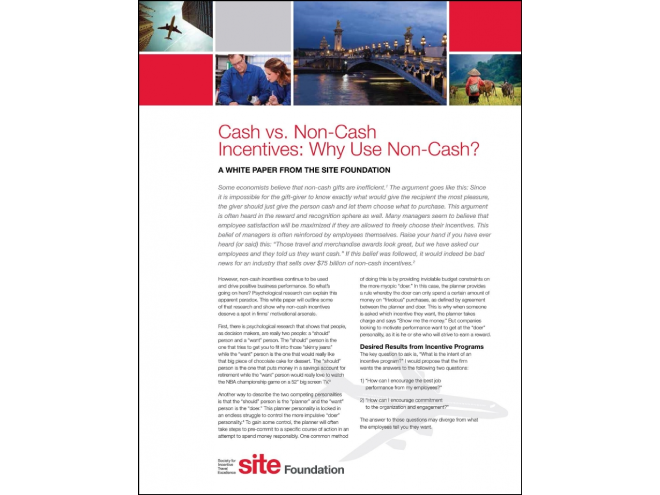 Cash vs. Non-Cash Incentives: Why Use Non-Cash?
Raise your hand if you have ever heard (or said) this: "Those travel and merchandise awards look great, but we have asked our employees and they told us that they want cash." If this belief was followed, it would indeed be bad news for an industry that sells over $75 billion of non-cash incentives.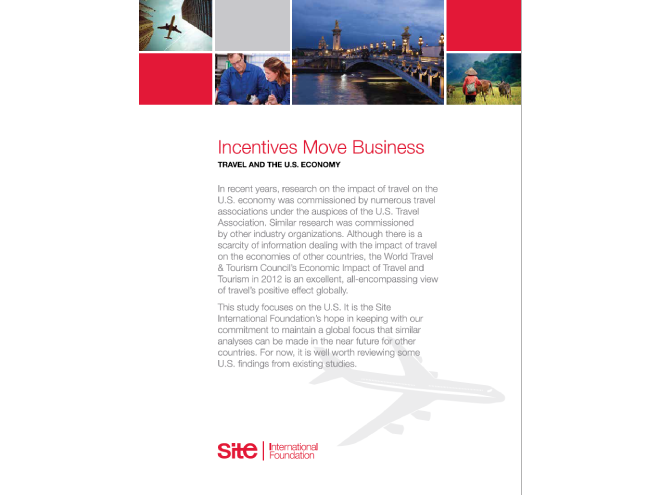 Incentives Move Business — Travel and the U.S. Economy
Travel is the sixth largest U.S. industry in terms of employment and is a top 10 employer in 48 states. In 2010, the incentive travel, meetings and events segment of tourism and travel accounted for $92 billion of all business travel expense and 6.3 million jobs in the United States, or 45 percent of all travel-related employment. 
Travel incentives and motivational events are business tools proven to increase sales and profits, boost productivity, retain customers, hold on to top talent, increase company loyalty, promote teamwork and decrease turnover. When properly designed, planned and executed, incentive travel programs can be self-liquidating and will produce a measurable and verifiable return on investment. 
Thank you to sponsor, IHG (InterContinental Hotels Group) for their support.