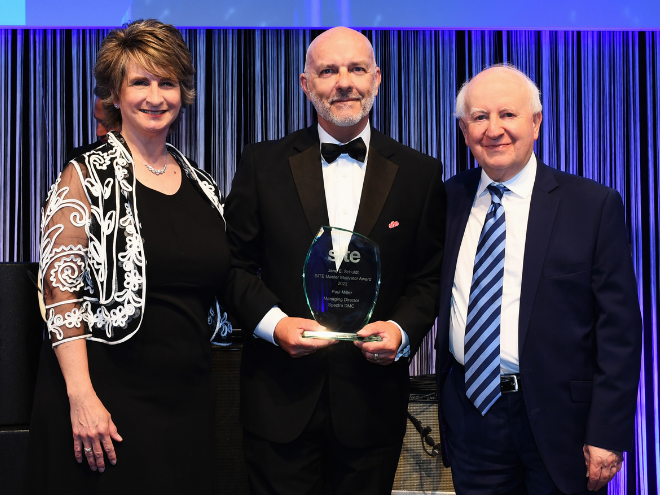 Jane E. Schuldt Master Motivator Award
Paul Miller, managing director at Spectra DMC, was honored with the Jane E. Schuldt Society for Incentive Travel Executives (SITE) Master Motivator Award at the 2022 IMEX Gala Dinner in Frankfurt, Germany.
Paul is a two-decade veteran of SITE, having been a member since 1999. Paul has been honoured previously with our member of the year award and served with distinction on the International Board of Directors, eventually becoming Global President. Volunteer highlights also include chairing our Global Conference, winning a SITE Crystal award and helping to kick start a moribund chapter that today is one of the biggest and most dynamic chapters in Europe.
Paul's career highlights are many, starting back in 2000 with a seven-day program for over 7,000 participants and, more recently, helping to deliver the biggest-ever incentive travel program hosted in Scotland. Paul is known for his extraordinary integrity, his unshakeable honesty, and his firm trustworthiness, among many other strengths and standout stories. 
The Jane E. Schuldt Master Motivator Award is presented annually to a SITE member who upholds the highest standard of excellence in creating and delivering successful incentive travel and motivational events and exudes energy, enthusiasm and a collaborative spirit in support of the global incentive travel community. The award is in honor of the late Jane E. Schuldt, past president of both SITE and the SITE Foundation.
The Paul Flackett IMEX Academy Awards
Two other SITE members were honored with The Paul Flackett IMEX Academy Awards, named in tribute to the former IMEX Managing Director.
Recognized for their long-term commitment to the industry, Madelyn Marusa, DMCP, CIS VP, Industry Relations, Strategic Initiatives PRA Business Events, Inc. and Heike Mahmoud, CMP, Chief Operating Officer, Congress Center Hamburg, a past president of SITE's Germany chapter from 2004-2011, received their awards at the gala.
Master Motivator Nomination Criteria:
The candidate embodies all that is good about the motivational events industry and is an advocate for our profession.
The candidate's activities demonstrate a collaborative spirit.
She or he has raised awareness for a cause, worked on government/political projects, collaborated within the industry on research or key initiatives or served as an educator - all to put our industry in a better place.
The candidate must possess a minimum of five years professional experience and be seen as a leader for today.
Further Information:
Nominees are submitted by the SITE International Board of Directors to Didier Scaillet, CIS, SITE CEO.  Final determination is made by the SITE President and SITE CEO.
The award winner is to remain in confidence until she or he is recognized at IMEX. Recipient must be in attendance at IMEX.
The recipient receives a plaque, and is recognized through a press release and announcement to the SITE global community.
This award is only given when there is a candidate that meets all criteria.
Past Winners
2019 - Rhonda Brewer
2018 - Miek Egberts
2017 - Dr. Patrick Patridge
2016 - Carolyn Dow
2015 – Joost de Meyer
2014 – Sian Thomas
2013 – Fernando Compean
2012 – Fukuo "Lucky" Morimoto
2011 – Annamaria Ruffini 
2010 – Laurie Sprouse